Just one completed tower and you'll see why we're better than other tower painting companies out there.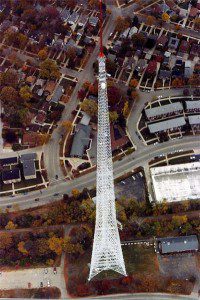 If you are looking into tower painting companies to handle anything from one tower to locations all over the nation, call on us at Shade Davis Tower Painting. We have the qualification and certifications to provide tower painting services for any type of tower, including water towers, broadcasting towers, and communication towers.
Our highly skilled and experienced team will give you the best possible results, so your towers look their best and reflect a good image on your company. Not only do we use the proven method of spray painting, but also the best quality paint products to give you results that last longer. If you have ever worked with tower painting companies that tell you it's normal to have to re-paint the tower every six months, we're here to tell you that isn't the case with our services.
If your towers are older, there could be other issues that should be addressed before painting to provide the best results. If needed, we also handle lead paint containment, sand blasting, and rust removal, so you'll notice an improved overall appearance.
Other tower painting companies stop short of a smooth, beautiful result because they know it will look just fine from a distance and you may not even get a close look at it yourself until after the check is cashed. We don't operate like that, and with 35 years of experience, we'll do a great job because it's our reputation at stake. It may be quite a while before you need tower painting again, but we want you to be completely satisfied so we're the only tower painter you consider for any of your future needs. Contact us today to learn more and get answers to any questions you may have. We'll provide you with a free quote too!