Put your trust in us for the tower painting services you need.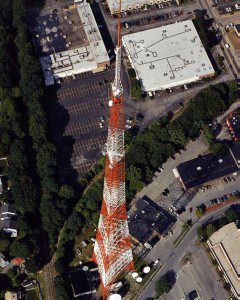 Towers in Texas need painting every now and then to preserve their appearance. If you need tower painting services, choose the best company for the job: Shane Davis Tower Painting. We have 35 years of experience providing these services, so we have the skills, tools, and expertise needed to provide exceptional workmanship in a timely manner.
Our painters are highly trained, and each has obtained many professional certifications. Among these are certifications from OSHA and ComTrain, as well as a Lead Awareness Training and Hoist Operator certificate. With their knowledge and our company's high-quality paints and equipment, we have everything we need to complete your tower painting project according to your exact specifications.
We also have several types of insurance for your peace of mind, including workers' compensation, liability insurance, elevated steel painters' insurance, and contractor liability insurance. We understand the importance of doing our work safely and taking the right precautions.
Using high-quality spray paints, we can provide tower painting services for towers in urban areas, including towers on top of city buildings. In order to give you a free quote for our services, all we'll need some basic information about the tower and photos of it. Once we are equipped with this information, we can provide your estimate and schedule your tower painting services.
Contact us today to learn more about our tower painting services and what makes us the best team for the job. We are here to answer your questions and ensure your satisfaction with our work.
---
At Shane Davis Tower Painting, we offer tower painting services in select areas of the United States, including Florida, Georgia, North Carolina, South Carolina, Texas, Illinois, New York, New Jersey, Michigan, Ohio, Pennsylvania, Alabama, Mississippi, Tennessee, Kentucky, Indiana, Virginia, Oklahoma, Kansas, Nebraska, South Dakota, North Dakota, Iowa, Wisconsin, and Massachusetts.