We are one of the most respected tower painting companies in the country.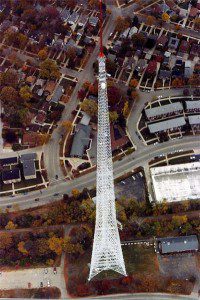 Whether you live in a rural town or urban city, there is a high chance your community relies on at least one type of tower. Radio towers and water towers, for instance, are incredibly important for communication and potable water. While these towers exist for functional reasons, it's also important to keep them looking beautiful for the sake of your community.
Tower painting companies, such as ours, can transform the run-down, unsightly towers in your area, whether they are in remote locations or on rooftops of city buildings. Our team at Shane Davis Tower Painting regularly paints towers of all kinds using high-quality spray paints and advanced equipment while carefully following all relevant safety procedures. You can put your trust in our 35 years of tower painting experience and rest assured that the results will not only look beautiful but also last for many years.
As one of the most requested and respected tower painting companies in the continental U.S., we hold ourselves to the highest of standards. We are a member of the National Association of Tower Erectors (NATE), carry extensive workers' compensation and liability insurance, and require each of our painters to obtain several professional certifications from organizations such as OSHA.
End your search for reliable tower painting companies in New York by turning to our experts. When you contact us for a free estimate, we will provide it quickly over the phone after we receive information about the tower that needs painting and its surroundings. We are also prepared to answer your questions about our services. Simply contact us today to learn more.
---
At Shane Davis Tower Painting, we are proud to be one of the best tower painting companies serving select areas of the United States, including Florida, Georgia, North Carolina, South Carolina, Texas, Illinois, New York, New Jersey, Michigan, Ohio, Pennsylvania, Alabama, Mississippi, Tennessee, Kentucky, Indiana, Virginia, Oklahoma, Kansas, Nebraska, South Dakota, North Dakota, Iowa, Wisconsin, and Massachusetts.