We have the skills to paint water towers safely and beautifully.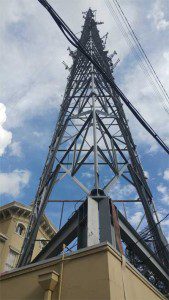 Water towers are largely responsible for supplying pressurized potable water to rural and urban areas throughout the state of Michigan. Water towers serve an extremely important purpose, but they are also highly visible and need to be properly maintained. When people look up at a water tower, they should see a tower that looks well maintained and beautifully painted. If a water tower in your area looks worse for the wear, contact our team at Shane Davis Tower Painting for water tower painting services.
With 35 years of experience painting all types of towers, our team is equipped with all the skills, high-quality products, and tools we need to complete your water tower painting project efficiently and flawlessly. We primarily use spray paint, and we take the proper precautions to reduce dry dust fallout. Our goal is to provide streak-free results that will last for many years to come.
Our expertise in water tower painting is extensive. All our employees are required to follow our safety program, and each is required to obtain several professional certifications from ComTrain and OSHA. In addition, our level of experience enables us to assess your needs over the phone for your convenience. With some basic information and photos of the tower, including its surroundings, we can provide an accurate quote for our water tower painting services.
Trust the water tower painting experts on our team for exceptional results and high-quality service. We encourage you to contact us for a free consultation or to ask us your questions about our tower painting services. We are ready to assist you.
---
At Shane Davis Tower Painting, we offer water tower painting services in select areas of the United States, including Florida, Georgia, North Carolina, South Carolina, Texas, Illinois, New York, New Jersey, Michigan, Ohio, Pennsylvania, Alabama, Mississippi, Tennessee, Kentucky, Indiana, Virginia, Oklahoma, Kansas, Nebraska, South Dakota, North Dakota, Iowa, Wisconsin, and Massachusetts.