When you want a water tower painter who will provide excellent, long-lasting results, we're the only one to call.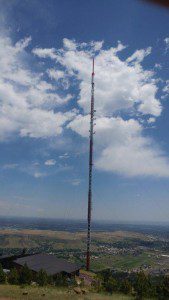 If you are in charge of the water tower for your township in Florida, you may be taking some heat from residents if it is a bit of an eyesore. The residents may have seen some others across the nation that add character and charm to the community and want that for their town, too. You might also be concerned about keeping it in good condition so that your town's most precious resource – water – is safe and protected. For both of these reasons, you need a qualified water tower painter. This is not a project you want to put in the hands of an inexperienced painter, so call us at Shane Davis Tower Painting.
We have 35 years of experience with tower painting and the equipment to do the job properly and safely. We can deal with added issues, such as rust or lead paint, to restore your water tower and make it as functional as it is aesthetically pleasing.
One thing you won't get with another water tower painter is the attention to detail we put into our jobs. Even though a substandard paint job may look good from the highway, that doesn't mean we settle for that. We use high-quality spray paint and durable paint materials to ensure a smooth result that is long-lasting. We've seen other towns need it their water tower repainted again in just six months because it wasn't painted properly. Don't pay for the job two or three times when you can get results you can count on by calling us.
We can send a water tower painter anywhere in the country, so feel free to call us even if your town is a bit remote. All we need is information about your tower and photos of the tower and surrounding area, and we can handle a free quote without taking up your time to visit the tower in person. If you have any questions, don't hesitate to contact us.
---
At Shane Davis Tower Painting, our water tower painters proudly serve select areas of the United States, including Florida, Georgia, North Carolina, South Carolina, Texas, Illinois, New York, New Jersey, Michigan, Ohio, Pennsylvania, Alabama, Mississippi, Tennessee, Kentucky, Indiana, Virginia, Oklahoma, Kansas, Nebraska, South Dakota, North Dakota, Iowa, Wisconsin, and Massachusetts.