Does your township have an ugly and rusty water tower? Call us for water tower painting to make it beautiful again.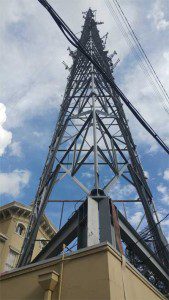 For many towns and cities across our nation, the water tower has become much more than a water source for its residents. It is a landmark that you want to reflect its image and character. A faded, peeling water tower sure doesn't do that, even if it once looked pretty amazing. Have no worries because our professionals at Shane Davis Tower Painting handle water tower painting jobs in Florida and across the nation, restoring Americana culture one tower at a time.
Water tower painting isn't just about image. It is also about protecting the tower, so the most precious town's resource is safe. We can take care of some of the necessary services your water tower may need to restore it to safe condition, such as rust removal or sandblasting prior to painting. In addition, if it was previously painted using lead-based paint, which we know now can cause issues, our lead paint containment services are the perfect resolution.
It is easy to get a free quote for your water tower painting job. Just send us a photo of your tower, basic information about it, and any other pertinent information, and we'll let you know the cost. We do not need to visit your site or take up your time to show it to us. We have the skills and equipment to handle water tower painting in remote areas, as well as ones where there are buildings and structures nearby. If you have any questions about water tower painting, don't hesitate to contact us.
---
At Shane Davis Tower Painting, we offer water tower painting services in select areas of the United States, including Florida, Georgia, North Carolina, South Carolina, Texas, Illinois, New York, New Jersey, Michigan, Ohio, Pennsylvania, Alabama, Mississippi, Tennessee, Kentucky, Indiana, Virginia, Oklahoma, Kansas, Nebraska, South Dakota, North Dakota, Iowa, Wisconsin, and Massachusetts.
Similar Services We Offer: