Our founder has over 35 years of experience in the professional painting industry.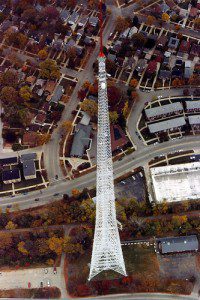 If you're looking for a tower painting company, turn to us at Shane Davis Tower Painting. Our founder, Shane Davis, has been a professional painter for 35 years and even served as a camouflage painter for the Marines during the Vietnam era.
In order to ensure the success of your tower painting project, we developed a written safety program that all of our employees have to follow. Additionally, every one of our tower painters is required to carry certification from ComTrain and OSHA and have a Lead Awareness Training and Hoist Operator certificate.
As a proud member of the National Association of Tower Erectors (NATE), we carry workers' compensation insurance and liability insurance. We also carry elevated steel painters insurance (Class Code 5037), and $5 million in contractor liability insurance.
In addition to our extensive qualifications and certifications, we only use the best paints when we provide tower painting services. When you work with us, we will ensure that the paint we add to your tower lasts for an extended period of time and that the coats we add are streak-free.
We have painted many types of towers throughout Florida, including ones in urban and rural environments, and are confident that you will benefit from turning your tower painting job over to us. Please reach out to us at Shane Davis Tower Painting today to receive an estimate or to find out more about our services. Remember, we are always more than willing to provide you with further information and answer any questions you might have.